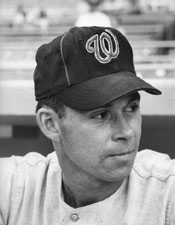 Pro baseball career (1959 -1974)
Dave pitched for the Washington Senators, Milwaukee Brewers, and Chicago White Sox. These and other teams he played for are in the book Snake Jazz.
Off Season
Dave earned a Ph.D. (genetics) and M.S. (systems engineering) at the University of Arizona. Subsequently, he has been a researcher, engineer, professional artist, and contented retiree.
Stealing into the Baseball Hall of Fame
Dave's painting, "Fugue for the Pepper Players," graces the Baseball Hall of Fame Museum and John Thorn's book, Treasures of the Baseball Hall of Fame, Vuillard, 1998.
Science & Baseball
His articles have crept into the Harvard Business Review (July/August 2001) and American Scientist (May/June 2005) and other diverse journals. Also, he contributed a chapter to Biomedical Engineering Principles in Sports (Hung and Pallus, eds., 2004).
In 2000 Dave spoke at the Science of Baseball Symposium sponsored by the American Association for the Advancement of Science (AAAS). His esoteric topic was the decision processes of baseball managers.
Poetry
He writes poetry under the name DGB Featherkile. Publication credits include: American Poetry Journal, Atlanta Review, Blue Unicorn, Concho River Review, Evansville Review, and The Lyric. His book Limbic Hurly-Burly: Poems of Humor and Paradox has been published by Stillman & Hyla as a Kindle ebook on Amazon.com.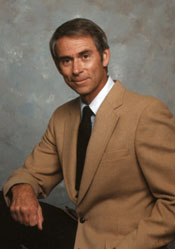 On the Air
He talked about baseball and higher education, or lack thereof, on the PBS "All Things Considered" radio program in 2006.
Dave appeared on the Scientific American podcast in March, 2007, to discuss his atypical career and the weird Japanese pitch, the gyroball.
He was interviewed on ESPN ("Outside the Lines") in the spring, 2007, once again about the gyroball (a pitch Dave has never thrown).
On Comcast, and MLB telecasts, Dave discussed what the batter sees or not as the ball leaves the pitcher's hand.
Affiliations
Dave belongs to the Society for American Baseball Research (SABR) and the International Society of Experimental Artists (ISEA).
LINKS
Baseball sites:
Judy Van Sickle Johnson's baseball blog:
http://watchingthegame.typepad.com/my-blog/
Engineering Professor Terry Bahill's baseball web site:
http://www.sie.arizona.edu/sysengr/baseball/index.html
Physicist Alan Nathan's comprehensive Physics of Baseball web site
http://baseball.physics.illinois.edu/index.html
National Baseball Hall of Fame:
http://baseballhall.org
The baseball statistics goldmine of Retrosheet:
http://www.retrosheet.org
Society for American Baseball Research (SABR):
http://www.sabr.org/
Gabriel Schechter's baseball blog:
http://charlesapril.com/
Jimmy Scott's baseball blog:
http://www.jimmyscottshighandtight.com/
Other sites:
Greg Howell's reflective blog:
http://greghowellblog.blogspot.com/
Dave Baldwin's art:
http://www.alkydair.com
A description of Dr. Carol Dweck's book, Mindset:
http://www.randomhouse.com/catalog/display.pperl?isbn=9781400062751
Four-time All-Star George Case (see Photo Gallery) made a historic documentary of American League players in 1939-1946. For the DVD:
www.timelessbaseball.com
Steve Mirsky's podcast interview with Dave Baldwin
http://www.scientificamerican.com/podcast/episode/b922a2b0-e7f2-99df-3985005fb523e886/

Steve Mirsky's column in Scientific American, about Dave Baldwin
http://www.alkydair.com/sciamerican.htm
Dave's American Scientist cover article (with co-authors: A. Terry Bahill and Jayendran Venkateswaran) describing the pitch as seen by a hitter:
http://www.americanscientist.org/issues/pub/predicting-a-baseballs-path/1

Linda Besse's wildlife paintings:
http://www.besseart.com/index.html
Go Yachats
http://www.goyachats.com